Wet Cleaning is a garment cleaning process based on technology that was developed in 1991 by Miele and detergent manufacturer Kreussler. The companies' goal was to develop a cleaning process that effectively cleaned all garments through a safe biodegradable detergent process - a process that was truly "green".
A lot of countries are now banning the use of solvent chemicals to clean garments so the more eco-friendly solution for both your business and your staff is Wetcare. As gentle as handwashing, the machines we supply come with specialist programmes for washing and drying which eliminate these environmental and health issues. With a Wetcare system you can wash pretty much anything you would ordinarily have dry cleaned and it is being endorsed by large fashion designers now as the sustainable way to go as they incorporate it into their garment care logo's. All wet bound stainings (beverages, water, sweat, body fluids) are easy to remove in the Wetcleaning process, and the customer benefits from a full garment clean and a much fresher smell and feel to their beloved items.
They key to this amazing system is defined mechanical action in these specialist washers and dryers. They have an extremely low water level, scooping, slow rpm, gentle rhythm, 3 sec action / 57 sec rest, exact temperature control (at low temperatures) and a high g-force with low residual moisture when drying.
The systems we can offer come in a variety of sizes but it is imperative that customers considering a Wetcare system are aware of the implication of what they need to consider:
Basic knowledge of fibres and dyestuff necessary
Sorting in regard of washing and drying conditions
Prespotting
Tensioning equipment recommended
Drying recommendations
Specialist chemicals
With the new dry-dry process you can have a full load washed and dried in just 46 minutes ready for finishing! The WetCare® system is easy to install and doesn't require a solvent license. As the machines have dedicated WetCare® cycles they are incredibly easy to operate. Importantly for Drycleaners they can be left to run whilst other areas of the service can be attended to and importantly can therefore lead to an increase in capacity and increase in profits.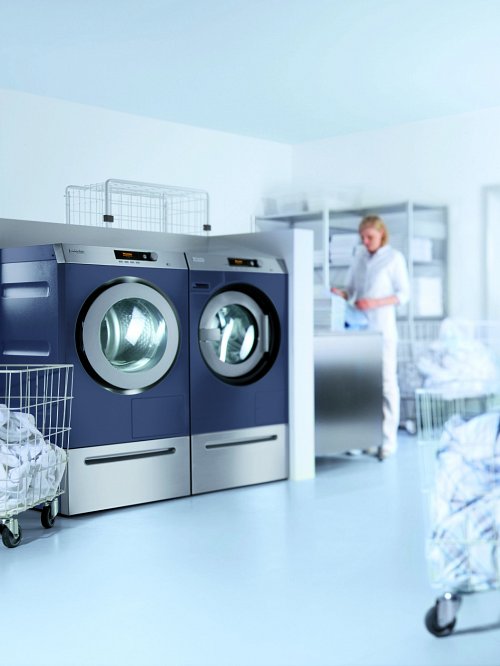 ---
Brochures and Information Downloads