Lincat EB3FX/HC - FilterFlow Combined Water Boiler & Chiller
For product advice call.
0800 0853 573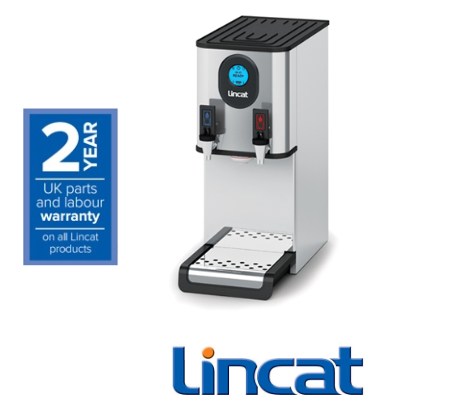 Images are for illustrative purposes only, actual product shipped may vary from that shown.
Product Categories
see similar products in the following categories
Water Boilers
---
---
Share This Product
Key Details
SKU:

WBO011

Manufacturers Product Code:

EB3FX/HC
Product Description
The Lincat EB3FX/HC is a combined water chiller and boiler. This boiler removes the need for kettles and or separate boilers and water chillers. Providing the user with great tasting water both from the hot and chilled tap dispensers.
This particular model is a very popular twin temperature appliance. It saves the user space, time and keeps employee productivity to a high standard. Narrow 250mm footprint saves valuable counter space without compromising capacity or performance
Lincat has upgraded their water boilers with new technology and with sophisticated features to meet the needs of commercial industries. Built with twin tanks, which can be individually adjusted to keep the water temp between 70-98°C.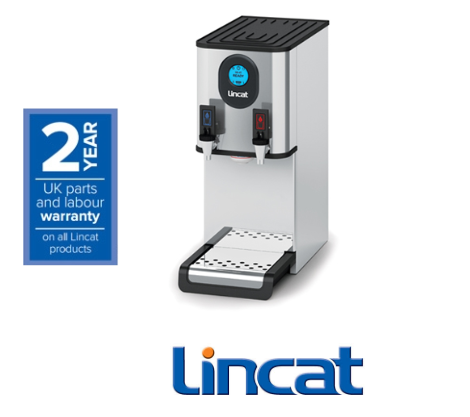 This appliance is especially popular with the catering and hospitality industry. The Lincat EB3FX/HC provides both chilled and piping hot water from the one unit 24 hours a day if needed.
Benefits of the Lincat EB3FX/HC - FilterFlow Combined Water Boiler & Chiller
Most businesses like the catering industry don't have the time or manpower, wait for manual kettles or manual boilers. In order for busy industries like the catering, industry time is everything.
Staff productivity tends to be low when the equipment they are using is slow, unreliable or unable to cope with demand. In order for your business to get maximum efficiency from your staff, it's paramount that you give them the necessary machines to get the job done in a timely manner.
Features of the water boiler
Lincat also equipped this commercial water boiler with the easy to change filter flow cartridges, which makes it quick and convenient service.
You get this flexibility with the Lincat EB3FX/HC water boiler and chiller.
• Eco setting reduces the volume of boiling water by 50% for quieter periods • The intelligent predictive eco setting learns usage patterns and switches between eco mode and standard mode to deliver the required hot water output in the most economical way • 7-day timer allows the boiler to be programmed to switch off overnight or at weekends to conserve energy
One of the most notable features of this Lincat is that the machine the LCD monitor providing the user with quick easy programming and diagnostics.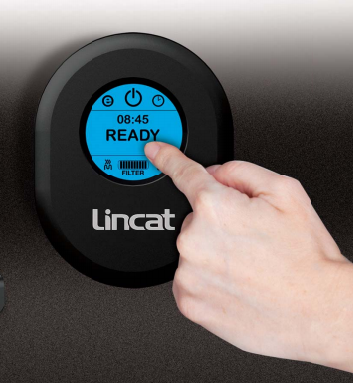 - Filtered chilled and hot water on tap 24 hours a day
Stainless Steel Finish
Cups Per Hour 140
Output Twin Tap
Filtration - Yes
Output Per Hour - 28 ltr
Immediate Draw Off 5 ltr
Dimensions
Height To Tap 250mm
Packaged Width 350mm

Packaged Height 700mm

Built-in water filtration system
High volume, easy change FilterFlow cartridge
Large, color touchscreen display
Narrow 250mm footprint
Adjustable hot water temperature – from 70°C – 98°C
Self-descale programme to reduce the build-up of scale
Enhanced diagnostics
- Unique built-in water filtration system improves water quality and reduces scale build-up
High-quality boiling water on tap 24 hours a day Low cost, easy-fit replacement filter cartridges
Advanced diagnostics with LCD panel showing operational status
The reliable electronic temperature control system Lower energy and maintenance costs
Adjustable water temperature - ideal for all types of beverage Output per hour
Accessories Wall mounting kits Replacement filter cartridges Contact Us
sales@millersuk.co.uk.
The following documents are available for this product.