Lincat EB6FX 18 Ltr Filterflow Automatic Water Boiler
For product advice call.
0800 0853 573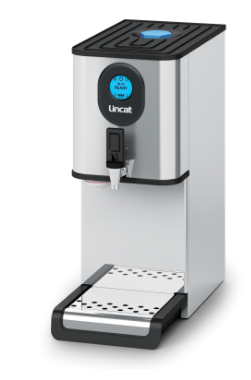 Images are for illustrative purposes only, actual product shipped may vary from that shown.
Product Categories
see similar products in the following categories
Water Boilers
---
---
Share This Product
Key Details
SKU:

WBO003

Manufacturers Product Code:

EB6FX
Product Description
Automatic-fill water boilers, including the unique 'Lincat EB6FX FilterFlow' range with built-in filtration. Giving you the ability to make tea, coffee and other beverages quickly, efficiently and economically is essential in all catering establishments, large and small.
Lincat EB6FX 18 Ltr Filterflow Features and Benefits
Lincat EB6FX 18 Ltr Filterflow is a part of the latest generation of tap dispensing automatic water boilers. Lincat placed emphasis on the aesthetic contemporary design, making sure that the boiler was suited for a self-service business like hotels, hostels, and nursing homes.
This allows for instant hot water supply making sure that it's constantly restored, so your business doesn't experience any downtime.
The EB6FX model has unique built infiltration system. These filter capsules are installed easily within the boiler shell. Each cartridge has a limit of 4000 liters but filters don't cost a lot and are simple to replace.
Notable features include boilers capacity, which holds up to 18 Litres which equivalent to 110 cups. This Lincat water boiler also provides the user with an output capability of 60 litres which is equivalent to 400 cups, of boiling water all day if needed. It takes approximately 22 minutes to boil water from empty to full capacity.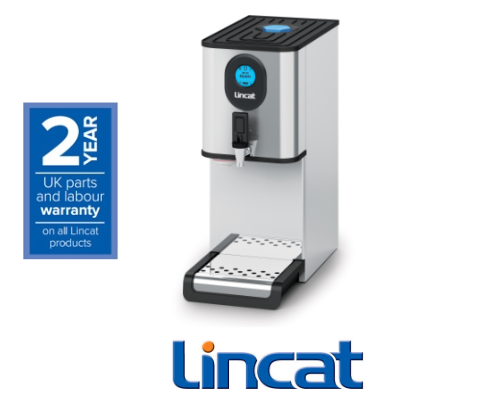 Tap into boiling hot water 24 hours a day with Lincat FilterFlow range of automatic water boilers which feature unique built-in water filtration and advanced onboard diagnostics.
Lincat EB6FX 18 Ltr Filterflow Display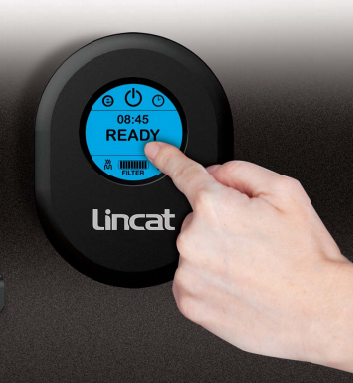 This new generation of boilers is perfect for companies that need great tasting water at 98°C for black tea and coffee.
In hard water areas, limescale can be a disaster for certain lower quality boilers. The filter flow model has a built-in screw cap and indicator probe to let the user know about limescale issues. The sophisticated LCD display has detailed instruction for step by step guidance on how to remove limescale from the machines. This saves downtime and call out costs for a professional engineer.
Unique built-in water filtration system improves water quality and reduces scale build-up
Advanced diagnostics with LCD panel showing operational status**

The precise electronic temperature control system
Adjustable water temperature - from 70°C - 98°C
Large, color touchscreen display
7-day programmable timer to conserve energy
Insulated tank for minimal heat loss and energy conservation
Built-in water filtration system improves water quality and
reduces scale build-up
High volume, easy change FilterFlow cartridge - removes
sediment and impurities such as chlorine and reduces limescale build-up
Screw cap and indicator probe to help you monitor limescale build up.
Descaling process
with step-by-step instructions provided on screen
Enhanced multi-level diagnostics
Designed for connection to a potable cold water supply
Water and power supplies can be fed from the underside so no wires or pipes are visible
**An engineer may still be required in hard water areas.
Cleaning and Servicing
Easy clean stainless steel external finish and smooth black Trim

Easy clean removable drip tray
Easy change filter cartridge

Screw cap and indicator probe to monitor limescale build up Easy descale process

Enhanced diagnostics, the on-screen diagnostic information will enable the engineer to identify the parts needed and repair your water boiler at first visit
Overall Construction
Long life Incoloy element
Mirror finish stainless steel
Smooth ABS/PC trim
Stainless steel water tank
Inclusive Accessories
Removable drip tray
Water feed hose (1.6m)

FC04 5,600 liter filter cartridge Drain Hose

High-quality boiling water on tap 24 hours a day
Low cost, easy-fit replacement filter cartridges
A reliable electronic temperature control system
Lower energy and maintenance costs
Adjustable water temperature - ideal for all types of beverage
Output per hour
60 litres (105 pints, 400 cups)
Rapid draw off
17 litres(30 pints,110 cups)
Dimensions
Power
Accessories
Wall mounting kits
Replacement filter cartridges
The following documents are available for this product.