Lincat LWB2 Manual Fill Water Boiler 2 Gallon / 9 Litre
For product advice call.
0800 0853 573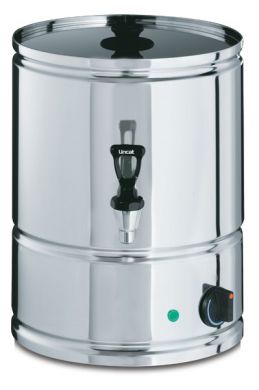 Images are for illustrative purposes only, actual product shipped may vary from that shown.
Product Categories
see similar products in the following categories
Water Boilers
---
---
Share This Product
Key Details
SKU:

WBO005

Manufacturers Product Code:

LWB2
Product Description
Lincat LWB2 Manual Fill Water Boiler gives the user the ability to make coffee tea and soups in a more efficient manner. This has the added benefit of making establishments like catering companies, cafes and kitchens more economical and more productive.
Productivity is essential for smaller companies, as time is a valuable asset. No company can afford to waste time waiting for the kettle to boil. Customers can also become inpatient when or disgruntled if your business isn't quick during peak hours.
Features
Lincat has improved on their range of manually filled water boilers. Which now offer specification for commercial catering use, during peak hours. Lincat's manufacturers the LWB2 Manual Fill Water Boilers to the highest standard. Undergoing the Lincat's most stringent of safety standards.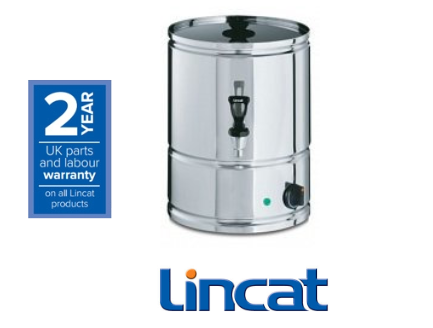 What attracts people to the Lincat Manual Fill Water dispenser, is its ease of use. The boiler is very easy to fill and the water is ready to serve in around seventy minutes. This speed is down the 3kw powerful element.
Mobility
The main advantage of the boilers is that they tend to be very mobile. Give your company the flexibility to move them to where they are needed. This feature makes the boiler very popular with catering companies and offices.
The exterior of the water boiler is coast in a sleek stainless steel features which make them attractive for the front of house use and for catering events. Other features which make the manual fill boilers useful is that they are equipped with non-drip taps, easy to clean and descale.
The attached simmerstat makes them easy to set up with the simple flick of a switch. Kettles are known for using a large amount of electrical power during a short period of time. The same of amount of power can be used to boil water in the Lincat LWB2 Manual Fill Water Boilers. Boiling you up to 9 liters of water on 3kw of power.
Capacity
One of the major disadvantages of using kettles is the lack of capacity and scale you can get from them. Especially during busy periods in kitchens and catering companies. The Lincat LWB2 Manual Fill water boilers come in 9 18 and 27 liters.
This helps your staff cope with demand, by boosting staff morale as now they have the correct equipment to carry out their tasks in a more effective manner. It's best to get advice from our sales staff here at MillersUK on which type of water boiler your company needs. If you get a boiler too small it may not be suited for your business, get a boiler too large and your just wasting energy.
Lincat has attached several safety features on the boilers to help prevent accidents. This includes the boil dry feature, the attachable top, and the non-drip taps.
Lincat LWB2 Manual Fill Dispenser Pricing

The RRP of The Lincat LWB2 £255, but you can get it at MillersUK.co.uk for £190.25 +VAT
Dimensions
Power
Capacity
Capacity (litres) 9 18 27
Strong construction in mirror stainless steel Easy descaling and cleaning Simmerstat controlled Boil dry protection High quality non drip taps
External height (mm) 380 500 500 External diameter (mm) 300 300 365 Net weight (unpacked) kg 6 7 9 Gross weight (packed) kg 7 9 12 Shipping volume (m3 ) 0.09 0.145 0.176 Total power rating (kW) 3 3 3 Electrical supply 1N~+E 230V 50-60Hz Current Rating (A) Lincat
The following documents are available for this product.