Lincat WMB3F/W Water Boiler FilterFlow Wall Mounted Boiler (White Glass)
For product advice call.
0800 0853 573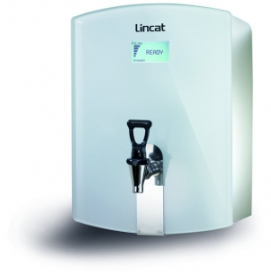 Images are for illustrative purposes only, actual product shipped may vary from that shown.
Product Categories
see similar products in the following categories
Water Boilers
---
---
Share This Product
Key Details
SKU:

WBO015

Manufacturers Product Code:

WMB3F/W
Product Description
The Lincat WMB3F/W Water Boiler FilterFlow Wall Mounted Boiler (White Glass) is one of Lincat more modern stylish designs. The wall mounted features give the user the ability to hang the dispenser over sinks and countertops where the boiler is needed most.
This makes the WMB3F/W boiler perfect for companies like that of the catering industry, commercial kitchens, pubs, and hotels. The space saved can be invaluable for certain companies like when the machine is placed in front of the house in a cafe.
Useful Features
Not only those the White Glass features of the WMB3F/W bring an air sophistication to your premises, but the extra countertop space also gives you the ability to showcase other premium products.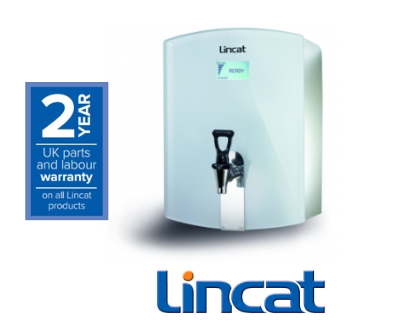 The dispenser comes equipped with a sophisticated filtration system which helps reduce the impurities in hard water area's while hindering the build-up of limescale.
This makes sure that the water that you serve from the Lincat WMB3F/W Water Boiler is clean, odorless and is pleasant to taste. Lincat designed the filter flow cartridges so that they can be changed as easy as a light bulb.
Benefits Of A Wall Mounted Dispenser
The fliterflow capsules are also easy to source and don't cost that much to replace.
One of the main benefits of the Lincat WMB3F/W Water Boiler is that it has a high output per hour of 31 liters and rapid draw off of 3.5 liters. Fitted with an onboard diagnostic system the LCD monitor will showcase the correct temperatures and give the user control over the timer.
Informing the user when the machine is in need of descaling. FilterFlow wall-mounted boilers supply up to 31 liters of piping hot water every hour – perfect for busy kitchens and staff rooms. Better still, they won't thirst for energy – consuming just 60 watts per hour on standby thanks to effective insulation and a reliable electronic control system.
Lincat WMB3F/W Price
The RRP for the Lincat WMB3F/W is £590 but with MillersUK.co.uk you can get it for £374.50 +VAT. Call one of our sales staff if you need help choosing a dispenser for your business.
Type: Electric • Built-in filtration cartridge • Electronic control system • Adjustable temperature (70 – 96°C) • Standby mode • Advanced diagnostics • LCD information panel
• Non-drip tap • WRAS approved
• Choice of rear or bottom power and water entry • Body: stainless steel grade 430 and toughened glass • Internal tank: stainless steel grade 304 WMB3F
Available Options Available Accessories • Choice of black / white glass • FC02 Replacement filter cartridge • DR72 Drip Tray
External height (mm) 415 External width (mm) 300 External depth (mm) 185 Output per hour (litres) 31 Rapid Draw-off (litres) 3.5 Recovery per minute (litres) 0.52 Net weight (unpacked) kg 8.5 Gross weight (packed) kg 11 Shipping volume (m3 ) 0.19 Water inlet connection ¾" BSP male Water inlet pressure (bar) 1 to 8 Total power rating (kW) 3 Standby power consumption (kW) 0.6 Electrical supply 1N~+E 230V 50-60Hz Current Rating (A) 13 Electrical supply 3N~+E 400V 50-60Hz Current Rating (A) N/A
Unique built-in filtration system - convenient and cost-effective Sleek design with black glass finish
Compact - ideal for sitting over draining boards or sinks Flush wall-mounted design - no unsightly support brackets
Adjustable temperature between 70° and 96° - perfect for specialty teas Cool-to-touch 8mm thick toughened glass fascia to withstand hard knocks
Reliable electronic temperature control system ensures economical operation Advanced diagnostics with LCD panel showing boiler status
The integral filter reduces scale build-up, reducing energy and service costs Easy access for maintenance and descaling. Lincat
The following documents are available for this product.