Miele 12-15Kg PT 8303 Dryer
For product advice call.
0800 0853 573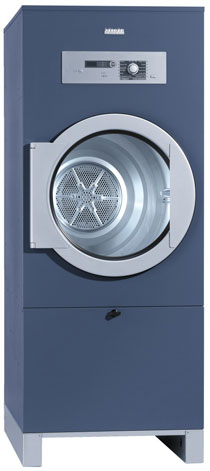 Images are for illustrative purposes only, actual product shipped may vary from that shown.
Key Details
SKU:

DRY013

Manufacturers Product Code:

PT 8303
Product Description
Do you need the benefits of a commercial tumble dryer for your business? The Miele PT 8303 vented dryer is specifically designed for companies where space is a premium.
Millers UK is located in the very heart of the UK. Here we are perfectly located in the very centre of the UK to sell, supply, install and service Miele commercial dryers like that of the Miele PT.
Miele has designed the Miele PT 8303 vented dryer companies like the hospitality industry, hotels, hostels, retirement, care homes and facility management companies.
Drum Capacity
The deep drum capacity gives these companies a substantial amount of space for a large load of laundry. With a load cap of 12kg to 15kg and a Load ratio 1:25 to 1:20 and finally the PT 8303 has a drum volume of 300 litres.
Miele's Honeycomb Drum Design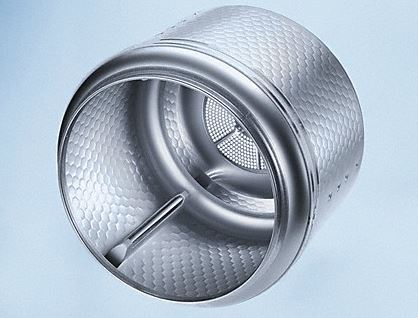 Miele is always improving on their design and technology. Innovation is a key ingredient of what makes Miele successful. The patented Honeycomb Drum is one of Miele's flagship signatures.
This unique design is more than just aesthetics. The honeycomb drum's sole function is to protect both the machine and your laundry. Just like Mieles washing machines, the drum creates and a thin barrier of air between the Machine and the laundry which prevents the laundry from creasing.
How The Miele PT 8303 Vented Dryer Works?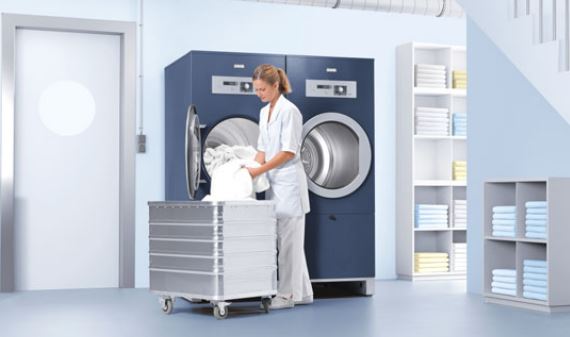 In order for the Miele PT 8303 vented dryer to work, they need to remove steem through a pipe. This pipe is connected to the back of the machine and out through an external vent or window. A flexible hose is the most common type of pipe that is used to remove steem from the machine.
It should be noted that you will need a vent or hole connected to the outside for the machine to work efficiently. If you don't have a vent or a hole connected to the outside our Miele engineers will have to create one for you.
Since venting steem from the machine and the room is an important process, the machine needs to be located in the vicinity of an external wall.
One of the main reasons that most companies choose vented dryers is due to its lower cost compared to the condenser or heat pump units.
Companies that don't have the luxury of being so close to an external wall or vent will need to look at other options. A condenser dryer may be a more plausible solution.
Footprint
One of the major benefits of The Miele PT 8303 is space saving solutions. Miele has kept in mind who they are designing machines for. Most hospitality companies don't have a lot of space for large laundry equipment.
The Miele PT 8303 vented dryer has a height of 1,800mm, a width in 711mm and depth of 1,089mm and the machine has a net weight of 139kg.
This vented dryer is a part of Miele's slimline range. The image below shows an install that Millers UK did in 2018 in Haydock UK. Here you can visualise the space needed for a vented dryer in your business.
The PT 8303 Controls and Interface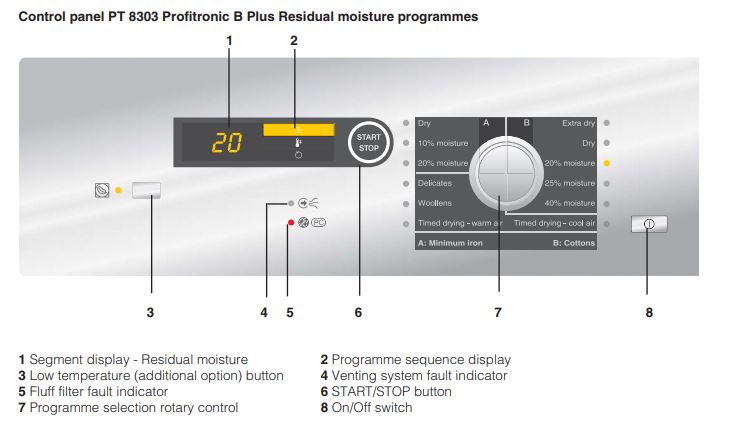 Profitronic B Plus controls By means of the user-friendly residual moisture controls the required level of dampness and material type can be set easily and simply via the rotary selector.
The display shows the residual moisture, the remaining cycle time and the programming stage: Heating up, cooling down and anti-crease action
It is also possible to set the programme parameters individually as required. For delicate fabrics, it is possible to reduce the temperature from high to medium with the "Low temperature"​ option.​​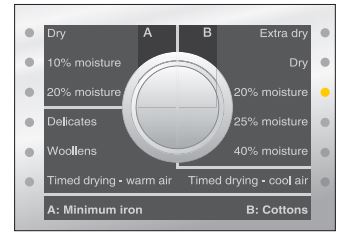 If you have sensitive fabrics like delicate, sheets and tablecloths, the lower temp options can be activated.
This will reduce the temperature during the drying process.
How To Purchase A Miele PT 8303 Vented Dryer?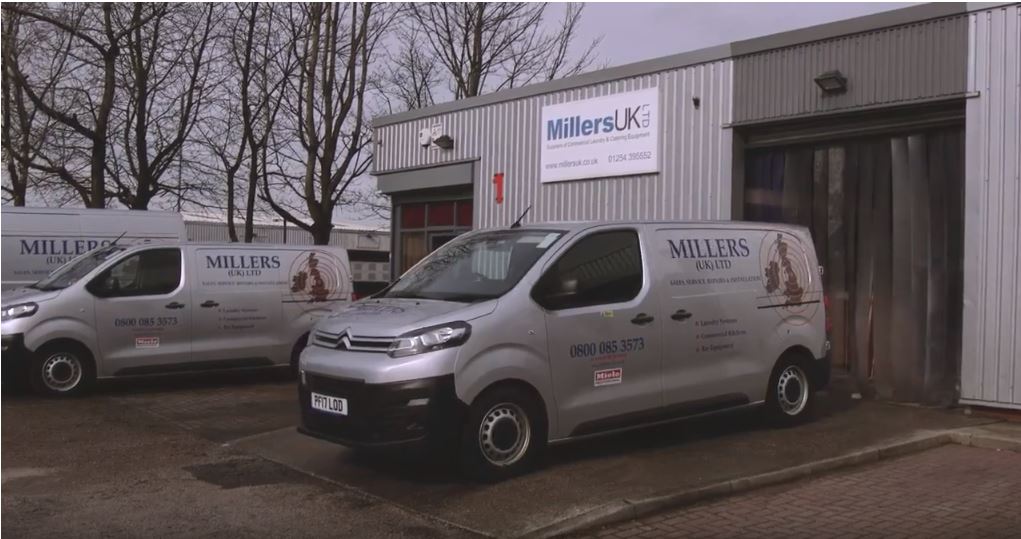 Millers UK has been a Miele Professional Partner for over 10 years. During that time we have installed and serviced a number of Miele Washing Machines and Commercial Dryers.
We don't sell Miele products directly on the website. In order for Miele to issue a warranty for any Machine that is sold, you need to have it installed by a Miele Professional engineer.
Speak to our sales team here at Millers UK. Our team has detailed knowledge of Miele Washing Machines and Commercial Dryers. If you need advice on what machine would benefit your business, speak our team. We welcome your call.
Load capacity 12kg or 15kg
Profitronic B Plus control with residual moisture sensing, 12 programmes
Miele's patented residual moisture sensor system precisely monitors the desired drying level of the laundry and adjusts accordingly
Width of only 711mm for easy installation on site
Vented system
Diagonal drum air flow for intensive yet gentle drying
Product Specifications
Dimensions H 1800 x W 711 x D 1089 mm
Load capacity 12-15kg
Weight 139kg electric/ 145kg gas
Electrical connections Electric or Gas
The following documents are available for this product.