Commercial Dryer - Miele 6.5kg PT 5135 C
For product advice call.
0800 0853 573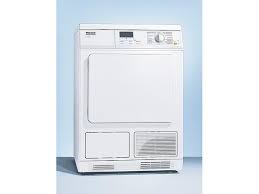 Images are for illustrative purposes only, actual product shipped may vary from that shown.
Key Details
SKU:

DRY014

Manufacturers Product Code:

PT 5135C
Product Description
One of the most popular commercial dryers online is the Miele PT 5135 Little Giants 6.5kg Dryer. The Miele Little Giant condenser dryers have proven to be a workhorse for low volume intensive use. The machine has a drum volume of around 130 liters which is a considerable amount of laundry.
This has made them pretty popular with small veterinary practices, care homes, for beauty salons, spas, fitness centers. and residential homes. With a capacity of 6.5kg, this is sufficient enough for companies that need small loads of laundry carried out intensively during the day.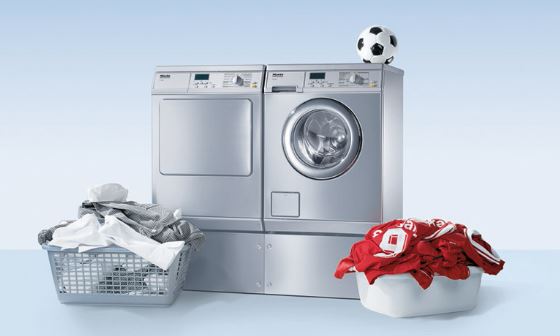 The 6.5kg drum provides the user with professional reliable results as comes as a standard by Miele dryers. By having a large drum size for a small and compact machine the dryer is able to undertake large amounts of clothes or linens in less time.
Miele designs all of the commercial dryers with the user intent in mind. Providing you with a dryer that is made with the best quality parts which ensure that the dryer is built to last.
Commercial Condenser Dryer Controls
One of the more common benefits with the Miele Little Giants commercial dryer series is seen with its simple to use interface. The user can control the outcome of the dryer by using both the ProfiLine L electronic controls and with the rotation selection switch.

ProfiLine L controls The controls are characterized by a clear control panel with programme names in the country-specific language, which can be selected via a large rotary selector. The user receives information about the selected programme as well as programme details, such as temperature or programme duration via a display.
Equipped with a modern liquid crystal display which gives the user a more aesthetic experience. Providing the user with better data to make the Miele PT 5135 Little Giants 6.5kg Dryer more efficient.
By providing the user with better user experience and better control over the machine the user can save money in the long run. Another stand out feature of PT 5135 commercial tumble dryer is seen with 8 special programs and many specific drying stages.
Product Footprint.
One of the more common benefits of the Little Giants is that it's more ergonomically efficient. The tumble dryer can fit in narrow in most commercial premises with measurements of External dimensions, height in mm 850, External dimensions, the width in mm 595, External dimensions, depth in mm 710 and a Net weight in kg 60 Maximum floor loading in 710.
Miele understands that most of their customers don't have enough space for a huge commercial dryer. By providing them with a commercial dryer like the Miele PT 5135 Little Giants 6.5kg dryer combines practicality, affordability, and usability all in one machine.
Power And Efficiency
Miele designs machines that are both practical and economical. The PT 5135 dryer is powered by electricity. With an electrical connection of 220-230V~ 50HZ, and the machine comes with an electric heater rating of kW 2,51-2,74.
Laundry Care And Protection
Miele has place massive emphasis on the Laundry care with the Miele Professional products. This is seen with their inclusion of their patented Honeycomb Laundry Drum.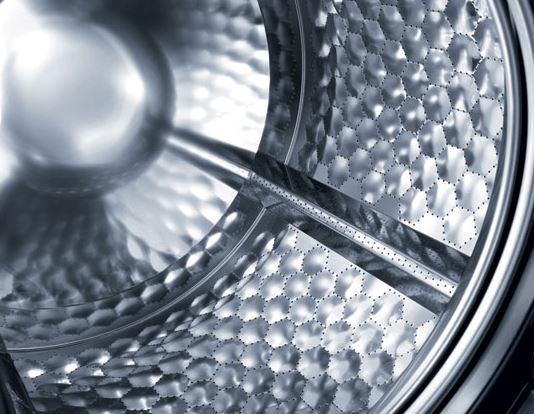 This allows a thin film of air between the condenser dryer and the laundry. This prevents your laundry from getting creased. Miele has also included SoftLift drum ribs which allow laundry to be dried gently and evenly.
How To Purchase A Miele PT 5135 Little Giants 6.5kg Commercial Dryer?
Mile products can only be purchased over the phone with our sales team. If you are looking for the benefits of a commercial dryer for your business give us a call. Millers UK is an official Miele professional partner. We have been in business with Miele for over 10 years. In order for Miele Professional Products to come with a warranty, they need to be fitted a Miele Professional Partner.

Call Millers UK Ltd - 01254 395552
Load ratio 6.5Kg
Load Capcity 6.5Kg
Profiline L Controls
Honeycomb Drum, 130L capacity
Casing
White with stainless steel lid
H x W x D: 850 x 595 x 700 mm
Available in white stackable heat pump model
The following documents are available for this product.