Product Description
Miele Profitronic 8kg Washer PW6080 L Vario 8kg (Drain Pump or Dump Valve Options) Washing Machine. Available in blue or stainless steel. This washer is electrically heated and contains a drum unit which is suspended. One of the most notable features can be seen with the very short spin cycle of 53 minutes.
Known as a workhorse within the Miele product range. Its popularity can be seen for sectors like hospitals and nursing, where a large number of our needs to be completed in an efficient manner.
The Drum volume of 8l and capacity of 8kg, giving the user plenty of room for a large load of laundry, with the added convenience of a drain pump to help move and clean the unit efficiently.
Designed with Miele's honeycomb drum, creating a gentle film of water in the washer. This gentle film of water gives the added protection of garments and soft textiles.
Due to the durability and commercial technology which gives the Miele PW 6080 short cycle times, and simple interface for ease of use. This particular washer is very popular with launderettes for the ease of payment collection.
The control panel has a number of operating options which gives the user optimal adjustment to meet the laundry needs of certain industries.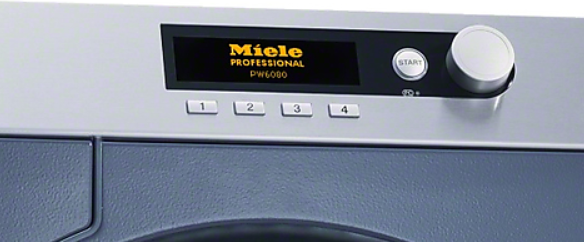 Your wash cycles and programs can be chosen with the simple rotation selector or the short icons. Given the user the data about the cycles, it's time length and temp. Each cycle or program may have different options which give the user more control over their machine.