Commercial Ovens - Rational 101 Self Cooking Centre
For product advice call.
0800 0853 573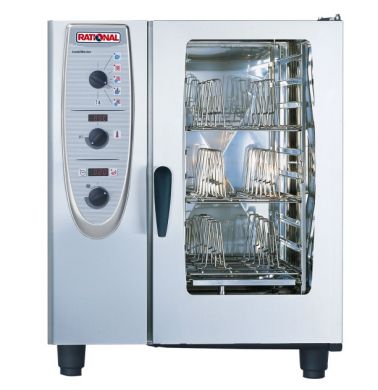 Images are for illustrative purposes only, actual product shipped may vary from that shown.
Product Categories
see similar products in the following categories
Steam Ovens
---
---
Share This Product
Key Details
SKU:

OVE002

Manufacturers Product Code:

Rational 101
Product Description
The industry pioneer Rational 101 Self Cooking Centre can convert kitchen processes and transform businesses with its fantastic oven models possessing excellent features.
Rational 101 Self Cooking Centre also provides comprehensive training with each product purchase alongside complete information and support administration at any time, ensuring the model's maximum potential is figured out by the users.
Rational is one of the leading brands available in the market.
Rational SCC101G Gas SelfCooking Centre Combi Oven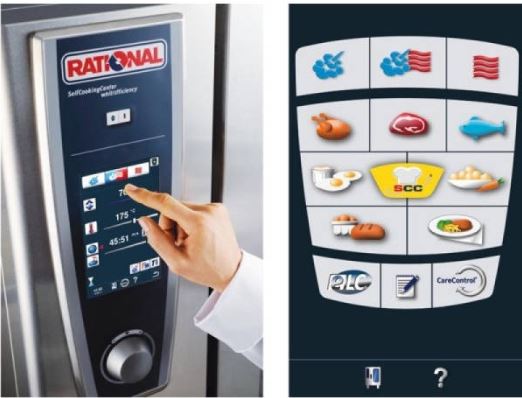 With the technology of original five senses, the Rational SCC101G Gas SelfCooking Centre combi oven is capable of sensing absolute oven requirements, identify food quantity and size, imagine progressively to ascertain how to cook the excellent meal.
It also learns users favoured methods and habits and interfaces changes to chefs to ensure high-quality yields all the time.
It additionally has a self-cleaning feature with hand shower component so that ideal hygiene levels are easy to accomplish.
iCooking Control
This Rational model is accessible in propane gas and natural gas variants.
The model flaunts a broad scope of combi oven and self-cooking modes for various cooking and foods styles. Its Care control and CalcDiagnosis quick cleaning method distinguish limescale growth and expand operational dependability quality.
Further, the delay start feature gives the chance to plan ahead of time, evacuating the need to screen the cooking procedure and upgrading the task of your job. This oven is perfect for high-yield food services and restaurants with an assortment of dishes.
This model is a part of the famous series - SelfCookingCenter 5 Senses, this present oven's copyright SelfCookingControl.
Additional Features Of The Rational 101 Self Cooking Centre
It has seven helpful cooking techniques with the goal that irrespective of what you're making, the oven will distinguish item specific necessities along with the load size and product size to give you immaculate outcomes without fail.
Regardless of whether you need to cook, roast, bake, or even steam, making a wide assortment of dishes in a single oven has never been less stressful. SelfCookingCenter 5 Senses Model 101 needs a 3-phase electrical connection, 480V for working.
This model by Rational Selfcooking Center opens an abundance of new choices for expert food cooking by combining steam and heat into one unit.
Its dry heat feature is perfect for meats, quick production, and baked foods. The appliance can produce constant convection heat which is up to 300c with complete regularity and even circulation.
It is simple, cooks delicious and healthy food with low costs

You can also merge the modes to minimise loss, limit food from drying, and assure uniform browning, thus, presenting excellent culinary practices for users in the least time.
It is also a combi oven model that is an astonishingly compact but total cooking system valuable in convenience stores, restaurants, takeaways and considerably more.
Its advanced current warming components and steam tech set another example in low-temperature cooking. It indicates that even poached fish can cook with less user interaction.
The Rational Self Cooking Centre XS gives a similar dimension of effectiveness and power contrasted with the brand's more prominent models.

Rational 101 Steam Oven Highlights
9 SelfCooking Control- Modes and 3 Combi-Steamer-Modes
CareControl- automatic cleaning and care system
Core temperature probe with 6 point measurement
Level control- rack monitoring with times individually programmed for each rack
Hand shower with automatic retracting system
At least 350 programs with up to 12 steps freely selectable
USB Interface
Self Cooking Control Modes
Roasts
Fish
Egg dishes/ desserts
Pan Fries
Side Dishes
Baked Dishes
Poultry
Potato Products
Finishing
Combi-Steamer Modes
Moist heat 30 to 130 degrees celsius
Dry heat 30 to 300 degrees celsius
Combination of moist heat and dry heat 30 to 300 degrees celsius
Capacity
Dimensions
Warranty
12 months parts and labour warranty
The following documents are available for this product.