PRI 421 Miele Flatwork Ironer
For product advice call.
0800 0853 573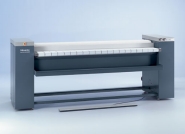 Images are for illustrative purposes only, actual product shipped may vary from that shown.
Product Categories
see similar products in the following categories
Rotary Irons
---
---
Share This Product
Key Details
SKU:

RIR008

Manufacturers Product Code:

PRI 421
Product Description
The PRI 421 flatwork ironer is the perfect solution for a wide range of applications, no matter what size the items to be ironed. The ironer has a roller width of 2040mm, the option of electric or gas heating, and also provides the option for laundry throughfeed or return feed for against-the-wall installation. The ironer has an outfeed table with Miele's patented honeycomb pattern, allowing laundry to be cooled by a stream of cooler room air from below.
Product Key Features
96 kg/h laundry throughput at 25% residual moisture, 87% surface covered
Roller diameter 365mm
Roller length incl padding 2040mm
Electric or gas heating
Infinitely variable temperature control
Roller speed freely selectable
Steel wool padding with ARAMID needle felt cloth
Optional: Elastopress spring padding with ARAMID needle felt cloth
New eccentric-drive trough-raising mechanism for uniform contact pressure
FlexControl' treadle switch controls to avoid infeed mistakes - belts and roller stop when the freely positionable foot switch is activated
Automatic laundry pickers prevents laundry from travelling through the trough a second time
'EasyFold' laundry table with honeycomb structure and thermodynamic cool down
Laundry box on in-feed side simplifies the process or sorting laundry and introducing items Extraction fan
Optional: Feed belts; return-feed module
Automatic finger guard
Manual trough release in event of power failure
Temperature limiter
Infinitely variable temperature control to provide gentle treatment to a wide range of fabrics
Product Specifications
Dimensions H 1095 x W 2768 x D 1442 mm
Electrical connections Electric or Gas
Weight 441kg
No documents are currently available to download for this product.