Miele 32kg Washer PW 6321
For product advice call.
0800 0853 573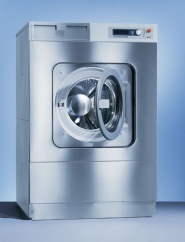 Images are for illustrative purposes only, actual product shipped may vary from that shown.
Key Details
SKU:

WAS040

Manufacturers Product Code:

PW 6321
Product Description
The Miele PW 6321 32 Kg Washer-Extractor is equipped with Miele power plus which aids the machine's performance by offering a more powerful element in the heater. By adding features like the power plus, it allows the washing machine to heat up much faster and give the user a much shorter cycle.
Benefits Of The Miele PW 6321 32kg Washer
Miele broke the mold for their large capacity series with the PW 6321 32 Kg Washer. The larger drum size gives the user the ability to carry out high volume laundry loads. These intelligent features provide the user with more reliable results with every single wash.
Additional features like the care plus system will ensure the care for your laundry and your machine. This care for your laundry is provided by the patented honeycomb drum.
The sculptured honeycomb structure of the honeycomb drum creates a thin film of water between the drum wall and the laundry. The laundry glides gently on this film and is treated with optimum care. This is scientifically proven by the Institute for Applied Research in Krefeld Textiles are treated more gently. Garments keep their shape and last longer.
Features and Techonology
One of the most notable features of the Profitronic M controls is the freedom to program the machine to your specific needs. The user has the added benefit of symbols and text on the user interface of the machine. Additionally, the washers display has a rotary dial which allows the user to control specific features like, cycle time, drum patterns, spins, and machine speed
The ecoplus feature within the PW 6321 commercial washing machine creates a more sustainable efficient performance cycle. Giving you an optimum outcome from little water detergent and power consumed.
Miele Professional commercial laundry machines are impressive with very low consumption values and are known for maximum efficiency. This standard is applied right from the product development stage: perfect results by using recyclable materials and no more water, energy, and detergents than absolutely necessary.
WRAS Compliance
Fully WRAS compliant, this Miele washing machine employs both thermal and sluice disinfection to ensure a hygienic clean, whilst offering impressively short cycles. Highly programmable and user-friendly, all wash parameters can be adjusted to meet the laundry facility's particular requirements.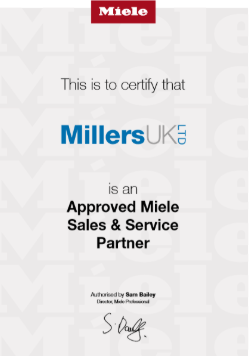 Load capacity: 32 kg
Drum volume: 320 L
Spin speed: 300-1000 rpm
Colour
Stainless Steel Front, blue lid & sides
Control system
Freely programmable Profitronic M control system
Profitronic M with 16 fixed programmes and 183 vacant programme slots
Large graphic display
Multifunction selector
User navigation in local language
Programme sequence indicator
Temperature display
Delay start facility
Serial interface
Smart card reader
Drive
Frequency-controlled drive
Features
Special heater elements
Dump valve flanged directly onto suds container
Hot, cold and raw water connection
Heating
Options: Electric, gas or steam (direct/indirect)
Wash technology
Gentle start mechanism
Graduated spin
Interim spin
Design
Scoop-and-Ladle technology
Freestanding washer-extractor
Machine front and lid in stainless steel
Galvanised and blue powder-coated side panels
Stainless-steel suds container and drum
Unique sculptured honeycomb drum
Large wide-opening gaiterless door
Recycling-friendly design with labelled virgin polymers
Special wash programmes for horse blankets and accessories which are the perfect solution for equestrian establishments. Wash load capacity Saddles cloths: 18, Summer blankets: 4-5, Winter blankets: 3 (depends on compostition of fabric)
Dimensions: H/W/D [mm] 164 x 108,5 x 127,2 cm
The following documents are available for this product.