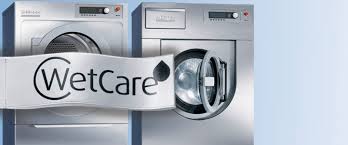 We at Millers are very pleased to announce the new and exciting Wetcare System from Miele. Miele Professional wet cleaning system produces superior results with washers that accurately control water levels, temperatures, settings and detergent dosing levels and drum rotation. Miele dryers then measure the garments residual moisture, optimizing cycle times, saving energy and protecting the garments from over drying.
Environmentally Friendly, economically efficient
Miele's Wetcare system provides perfect protection for the fabric and for the environment. The washing cycle uses 30% less water than conventional machines and can clean as little as 20c , reducing energy consumption by 50%. All Miele professional washing machines are accredited by the water technology list a renowned body that recognises products which really protect the environment.
How the process works
Wet cleaning uses highly sophisticated washers and dryers to safely clean all articles of clothing that are normally dry cleaned. Wet cleaning uses water; natures best cleaning solvent and safe biodegradable detergent mixture to clean. The biggest advantage of wet cleaning technology is that it is the most effective way to remove water based stains and odours, rendering clothes not only truly clean, but fresh smelling and the process does not expose workers or customers to toxic chemicals.
A wide variety of materials can be cleaned in a wet care cleaning system, for example:
Wedding Dresses
Leather coats
Persian Rugs
Silk Garments
UGG Boots
And many of the garments that you currently dry clean