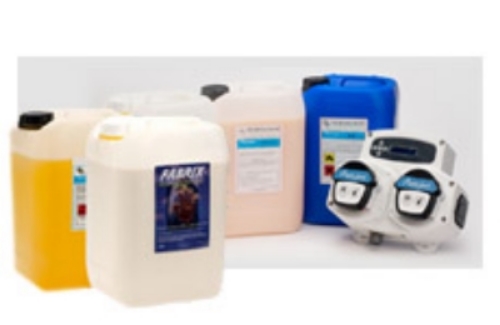 Our durable, dependable chemical dosing systems are used all over the world – helping customers automate release of chemicals for quicker, simpler and safer operations. Millers UK Ltd dosing systems work with all sorts of apparatus, from tabletop glass washers to laundry equipment and with our bespoke design service we can even create a system to suit your products. Many dispensers come with access codes for added security and enhanced multi – level programming. All products come with multilingual support for overseas clients and the option of brand promotion on the wall-mounted enclosures.
All Millers UK Ltd dosing systems are free to customers when signing up to a 12 month detergent contract.
Millers Liquid Laundry Detergent - Specifications.
A concentrated emulsion detergent available in both bio and non-bio versions. Provides superb cleaning performance across a wide variety of stain groups, making it ideally suited to the demanding healthcare and commercial on premise laundry (OPL) sectors.
Supplied in 10 litre bottles.
Millers Fabric Conditioner - Specification.
A concentrated multi-component conditioner that softens and , with the added benefits of 'quick dry' and 'easy iron' features. Contains a state of the art fragrance system that clings to the fibres after the wash and drying process, and imparts freshness that lasts for several days.
Supplied in 10 litre bottles.
Millers Fabric Detergent - Specifications.
A concentrated non-bio emulsion detergent, which is scientifically proven to destroy MRSA and C. difficile spores in 5 minutes contact time from only 30oC. Fabrix also offers superb cleaning performance and is suitable for use in any washing machine. (ALSO KILLS SWINE FLU).
Supplied in 10 litre bottles.
Millers Ice Destainer - Specifications.
A unique low temperature liquid destainer that starts working from only 20oC, which saves energy and time. Ice is tough on stains but gentle on fabrics, including coloureds. Ice is both non-corrosive and non-irritating to the skin, and is completely biodegradable.
Supplied in 10 litre bottles.
Millers Bedpan Wash - Specifications.
Bedpan Detergent. Sluice wash is a powerful detergent which ensures excellent performance in cleaning commode pots, bedpans, urine bottles and utensils. A clear yellow liquid, sluice wash is completely non-foaming and protects the machine against scale build-up. Sluice wash is suitable for use through integral or wall mounted chemical dosing equipment in all recognised types of industrial and automatic bed pan and sluice washing machines. This specialist product is designed for use in care homes and hospitals and is highly effective in both hard and soft water areas.
Supplied in 10 Litre or 5 Litre Bottles.
For more information please visit our detergents page.