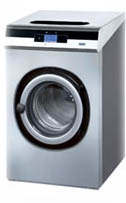 Primus Softwash
Primus Softwash is perfect solution of cleaning delicate textiles. Softwash is a tailor made wet cleaning package that allows cleaning even the most delicate linen such as suits, firefighter´s uniforms, wedding dresses, sweaters (cashmere), leather products, tents, etc. Wet cleaning uses filling factor 1:20, slow drum movements, low water level and low temperature. This solution is environmental friendly and requires lower investment compared to the regular dry cleaning option.
SOFTWASH IS THE FUTURE
STAFF
UNIFORMS
MILITARY
UNIFORMS
All over the world environmental standards are increasingly stringent as more and more people become environmentally conscious. This tendency is also applicable in the laundry and dry cleaning business.
"Soft Wash" wet cleaning system allows Primus to exploit this trend.
"Soft Wash" is a tailor made package that allows cleaning of even the most delicate linen. This creates new possibilities in a market segments such as dry cleaning shops, nursing homes, emergecy services, etc.
"Soft Wash" – wet cleaning ensures sustainable and long term business.
Since the early 1990's many companies have tried to bring wet cleaning back to the industry however recent advances in both wet cleaning technology and garment care have revived wet cleaning as a safe alternative to dry cleaning. Such is the progress made that trained cleaners are now able to wet clean many garments that have typically been dry cleaned, such as silks, woollens, linens, suedes and leathers.
Modern wet cleaning uses large, specialized machines to gently wash and dry clothes. These machines may be programmed for many variables, such as mechanical action, energy saving, water saving and drying temperature, moisture levels in the dryer, and water and detergent volume. This flexible technology provides cleaners with the controls to administer a customized wet wash suited to a fabric's specific needs.
For example, wet cleaners can set their machines to as few as six revolutions per minute to reduce the stress placed on delicate fabrics during the wash cycle. (In contrast, a typical home washing machine may rotate garments several dozen times per minute.) To safely clean fabrics that can shrink when washed in water and dried, cleaners can increase the amount of water spun out of wet garments after the final rinsing cycle, so that minimal drying is needed. They can also control the temperature and humidity levels during the drying process to prevent shrinkage.
Trained wet cleaners also use other tools to ensure that garments are safely cleaned. For clothes that bleed, cleaners can apply an agent that prevents dye from washing out of garments. New, mild bleaching detergents can be used to remove tough stains without diminishing colour. Fabric softeners and finishes can be added during the wet cleaning cycle to restore fabric softness, body, and crispness to garments once they are dried.