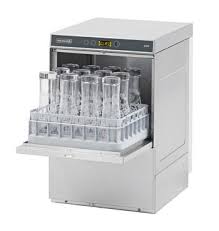 VALENTINE'S WEEKEND ARE YOU READY?
Valentine's day is fast approaching - can your glass washer handle such a busy night!??? Take a look at our Maidaid C351 - it's the smallest glass washer out of undercounter C range, so quite easily fits anywhere, very handy if you only have 1 glass washer on site and it goes down.
The Maidaid C351 under counter glass washer is the smallest of the C range machines supplied by Maidaid. The C351 has a 350mm basket and a usable height of 255mm and can also be supplied with a fitted drain pump if required. All of the Maidaid C range machines are supplied with soft touch controls, have a selectable energy saving mode, twin traffic light system giving the status of the machine and have a partial double skin to aid noise reduction and reduce heat loss. The recently upgraded C range still offers the same great simplicity, value for money and exceptional reliability as before, but all models are now fully automatic with soft touch controls and bright LED displays – these features not only improve the aesthetics, but have allowed the development of the machines to become self-diagnostic. This means that any errors that may occur are automatically detected by the machine and significantly, the relevant error code will be displayed on the screen, allowing problems to be resolved quickly… a great help to any service engineer. There are now 5 C Range glasswasher models (all of which are available with a fitted drain pump option) so whether you are looking for a glasswasher for a bar, restaurant or pub there will be a model for you.
All this for only £ 837.00 + VAT (please note this price does not include drain pump models)