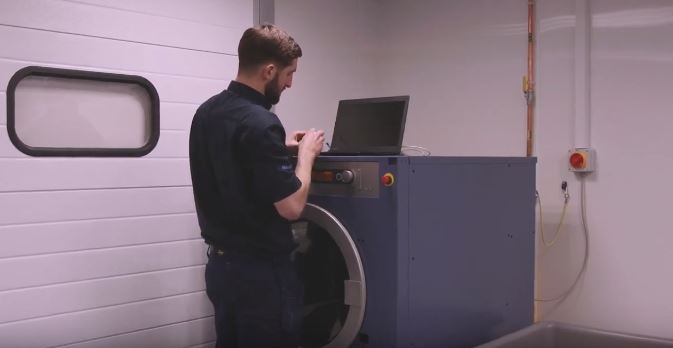 Have you been searching for a local washing machine repairs engineer online? It can be hard to find a commercial washing machine repair engineers that you can trust. Let me introduce you our team at Millers UK and what we can do for you.
Millers UK is based in Accrington in Lancashire. Our service engineers cater to all the North West UK, which includes Lancashire, Cumbria and the Greater Manchester Area.
Millers UK Local Washing Machine Repair Engineers FOR The North West UK
Millers UK is in the commercial laundry repair business for over 27 years. This is reflected in our partnership with Miele. Our collaboration with Miele started over ten years ago, and we continue to provide our customers with the best products and the best service.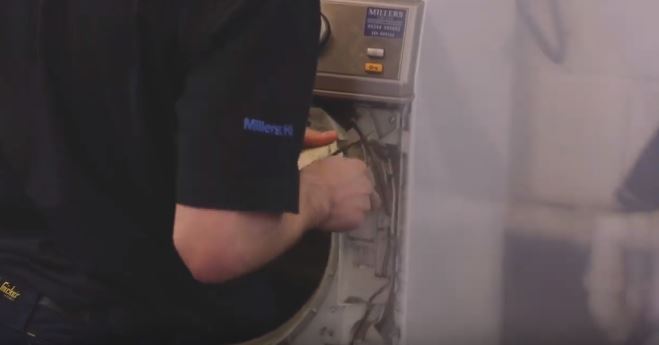 Miele is one of the leading European laundry equipment manufacturers. Miele only builds partnerships with the best service engineers. All of our engineers are Miele trained service technicians.
We continue to obtain the best knowledge and training from Miele so that we can provide our customers with the best local washing machine repairs.
According to Miele's service calls case study found that Millers UK provides high levels of first-time fix rates, with 97% of all service calls repaired on the first visit to the site.
Our service team can provide a quick response when you suffer from a machine breakdown, to get you back up and running as soon as possible.
Our Certifications
Millers UK is certified by Gas Safe, Napit, Construction Line, Chas and D.A.S.A. These certifications give the customer confidences in our ability to provide reliable local washing machine repairs.

Why Hire Millers UK To Fix Your Washing Machine?
Hiring a local handyman can pose a risk. Is this handyman a registered company? Do they have the relevant certifications to perform washing machine repair on your premies? Are they insured? What if they don't have the right skills to fix your washer? The main benefit of hiring a professional washing repairs company like Millers UK is that we have to provide our customers with fast and efficient repairs. Our company reputation depends on it.
We have worked extremely hard over the last 27 years to give every customer an honest and efficient service. It's this responsibility that gives the customer confidence in our ability to fix their machines and get them back up and running again.
Millers UK highly trained engineers are equipped with the latest equipment and carry many spare parts to ensure that they can provide a fix on the first visit whenever possible. We pride ourselves in offering an efficient, friendly service.
How Much Will Local Washing Machine Repairs Cost?
Our service engineers are timed using our time tracker software. This time tracker is activated when the engineer turned up on site and deactivated after the customer signs the engineer's handset when the job is complete.
It's in the companies best interest to keep our company's reputation at a high standard. Achieving a 97% of service calls fixed on the first visit, took hard work, dedication and customer confidence in Millers UK.
All of our service calls run under a quotation system. These quotes are performed by the service team and the service engineers. Some different factors can determine the cost of local washing machine repairs.
If you are unsure of the costs, our service agents have a fantastic knowledge of standard washing machine repair costs. Based on their prior experience of previous jobs they can quickly give you advice on the right way to proceed.
What Locations Of The UK Do You Provide Local Washing Machine Repair?
Our head office and workshop is located in Accrington which perfectly located to provide the North West with laundry equipment repair. Situated in the hear of Lancashire we in the perfect position for all significant routeways to cater the North West UK.
Here is a list of some of our service areas include.
Washing Machine Repair In Lancashire, Washing Machine Repair In Cumbria, Washing Machine Repair In Blackpool,
Washing Machine Repair In Manchester, Washing Machine In Greater Manchester, Washing Machine Repair In Blackburn, Washing Machine In Burnley, Washing Machine Repair In Preston.
Do You Have Testimonial Form Customers?
Don't take our word for it. Here are a just a few testimonials from our customers.
5 Star Google Review from Angela Corrigan "Very efficient, reliable and friendly service. They installed my new machine, removed my old machine and took it away, all of this was done within 24 hours of me contacting them. Would highly recommend this company."

5 Start Google Review from Cathrine Whitefoot "Amazing and professional service! A complicated and messy task that was sorted in no time. Fast and efficient. I can't thank Millers enough for their superb service, attention to aftercare advice. Very helpful and friendly.
Good to see a service provider that knows their stuff and can deliver a solid service. Millers came highly recommended, and I would definitely recommend and use again."
Other Services That We Provide At Millers UK