-
There are many benefits of installing a water boiler in commercial premises. Water boilers will give you instant hot water without having to wait for any appliance to boil.
One significant benefit of a hot water boiler is its convenience. Most hot water boilers will be used in commercial properties like that of cafe's, bars nightclubs and busy restaurants. Companies like these don't have the luxury of time to wait for a kettle or a pot to boil.
Productivity Benefits Of Water Boilers
For companies to increase productivity, they need to think more efficiently — both with time and in a monetary sense. Customers want coffees and teas instantly. Having a hot water dispenser at your disposal gives you and your staff the ability to perform the necessary task efficiently.
This will improve productivity in many ways. Customers will be happier you can provide them with their hot beverages quickly. Staff will be more productive and have improved morale as they have the necessary tools to carry out their job more efficiently.
Uses For Hot Water Boilers
Hot water boilers have become a standard appliance in busy kitchens. They are helping chefs and kitchen staff with the preparation of stews, broth, rice and pasta. Introducing boiling water into the cooking process for foods like rice and pasta will significantly reduce cooking time.
Water boilers are not solely used in the catering industry. Modern offices now are turning to the convenience of an instant hot water dispenser.
Most companies will undertake multiple meetings during the typical working day. It's customary that beverages like coffees and teas are supplied during these meetings.
Waiting for the kettle to boil for a room of 20 or 30 people isn't feasible.
To cater to this amount of people, you would need the benefits of a commercial water boiler. Most employees don't have the luxury of waiting for the Kettle to boil during the breaks. They want the convenience of having the ability to pour hot water for tea's, soups and coffees instantly.
By installing a water boiler in the canteen area of your office, will save time and money as most hot water boilers are energy efficient compared to the traditional kettle which is known for rising energy costs.
How Do Hot Water Boiler Work?
Water boilers are connected to the mains of the plumbing system. This removes the manual need for filling and refilling of the kettle. The majority of commercial water boilers can provide up to 160 cups of boiling water every hour. Saving your company time and energy costs that come from most kettles.
One particular added benefit of water boilers is that they are heavily insulated. They are almost acting like a flask. This keeps the water temp at a constant temperature throughout the day.
Traditional kettles aren't designed for efficiency. The purpose of a kettle is to be a cheap household appliance. Over time most companies that use pots with their businesses end up paying more in the long run.
At Millers UK all of the water boilers that we supply and install are manufactured by Lincat. The hot water dispensers that they produce have an attractive appearance. This makes them perfect for front of house use in popular cafes and bars.
Example Of Different Types Of Hot water Boilers
The Automatic Lincat EB3FX FilterFlow Water Boiler is one of the most popular models from Lincat. Equipped with the filter flow system which aids the machine to provide you with a high hourly output rate. This feature makes them perfect for commercial industries like that of restaurants, cafes, bars, catering homes, and hospitals.
>The Main Features Hot Water Boilers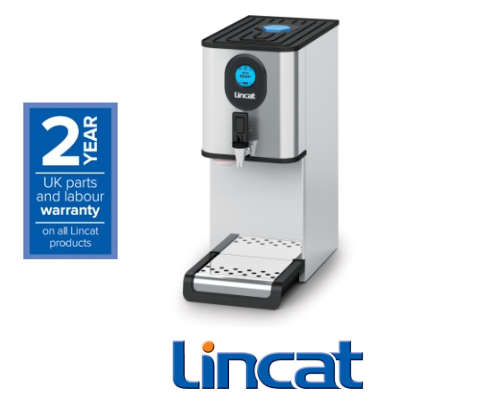 How Much Does This Hot Water Boiler Cost

Price: £398.70 +VAT +VAT
Tap into boiling hot water 24 hours a day. With Lincat FilterFlow range of automatic water boilers which feature unique built-in diagnostics. Giving you the ability to make tea or coffee quickly, efficiently and economically. This is essential in all catering establishments.
The sleek design gives the user a machine which looks aesthetically pleasing. Perfect for display in coffee shops and restaurants. Adding to this is the EB3FX Water Boilers compact size Width (mm) 250 x Height (mm) 600 which provides the user with ergonomic benefits.
Lincat EB3FX/HC - FilterFlow Combined Water Boiler & Chiller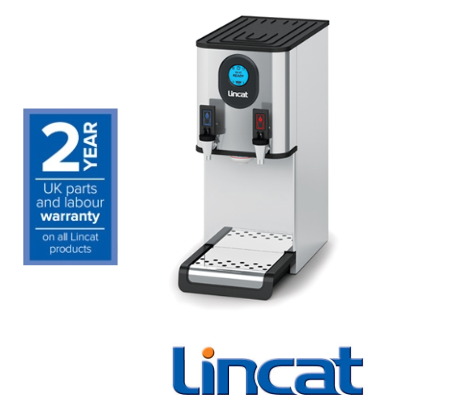 How Much Does This Hot Water Boiler Cost

Price: £933.85 +VAT
The Lincat EB3FX/HC is a combined water chiller and boiler. This boiler removes the need for kettles and or separate boilers and water chillers. Providing the user with great tasting water both from the hot and chilled tap dispensers.
This particular model is a very popular twin temperature appliance. It saves the user space. It keeps employee productivity to a high standard. Narrow 250mm footprint saves valuable counter space without compromising capacity or performance
Lincat has upgraded its water boilers with new technology and with sophisticated features to meet the needs of commercial industries. Built with twin tanks, which can be individually adjusted to keep the water temp between 70-98°C.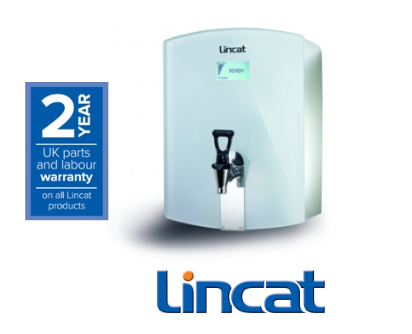 How Much Does This Hot Water Dispenser Cost

Price: £384.40 +VAT
The Lincat WMB3F/B Water Boiler is a particular model from the FilterFlow Wall Mounted Boiler range. This model is the Black Glass which looks very sophisticated and stylish for the front of the house in catering kitchens, hotels, B&B, hostels and coffee houses.
The Benefits Of A Wall Mounted Water Dispenser
The wall mounted feature is a very popular model, as most smaller businesses may have additional counter space. By giving the user the ability to attach the boiler to the wall frees up countertop space for other products to sell.
When is a wall mounted water boiler needed in a business? Every business is different? It all depends on the requirements of your business. Having the convenience of pouring boiling water instantly 24/7 from a tap dispenser is extremely beneficial.
The Lincat boilers have an inbuilt filter flow system, along with simple to change cartridges. These filter flow cartridges make it much easier for people to clean the machine while keeping limescale build up down.
It's vital that companies monitor limescale build up. Customers come to cafes for excellent tasting tea's, and coffee's not water that has a bad taste.
The water is replenished from the mains, and most waster dispensers give the user the ability to change the temperature based on the temperature needs for certain teas and coffees.
The majority of our customers that purchase Lincat water boilers from Millers UK do so for many specific reasons. The convenience factor plays a crucial role in their purchasing decisions.
Having hot water instantly and the energy saving costs of the water boiler, in the long run, are the significant benefits.
The increase in staff productivity can also help provide long term benefits. Staff morale will be higher as staff have the necessary tools to help them complete their jobs or take their breaks more efficiently.