Why not give us a call.
0800 0853 573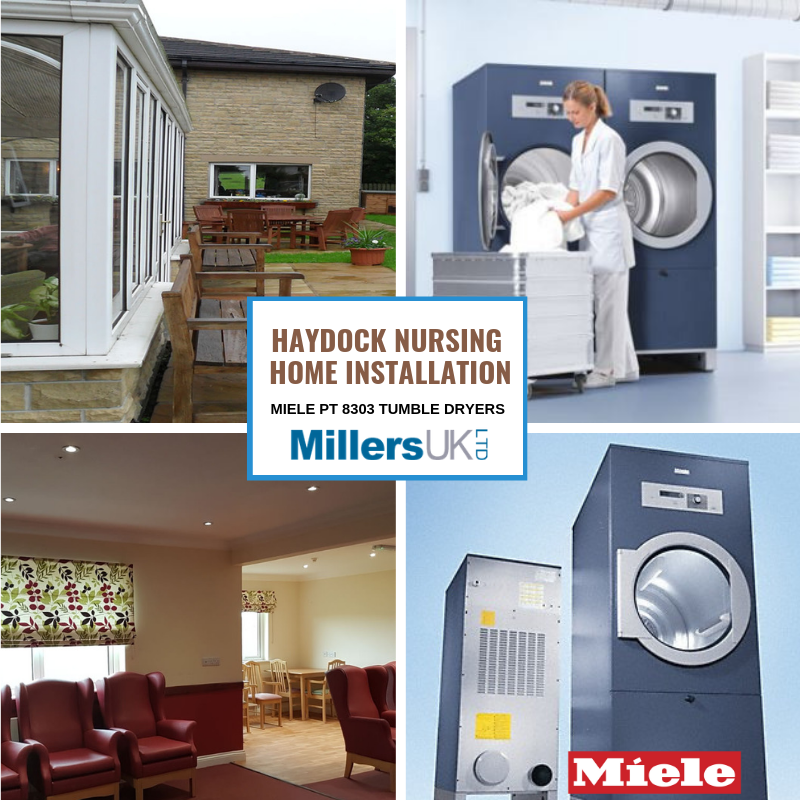 Haydock Nursing Home at Ramsgreave near Blackburn is a privately owned, modern, purpose-built home registered for up to 50 residents - all of whom enjoy the comfort of their en-suite rooms.
Bright and spacious, Haydock Nursing Home has comfortable, well-furnished lounges and dining areas which provide a meeting place for residents to relax and enjoy the open aspect views of the surrounding countryside.
The nursing home runs twenty fours hours a day seven days a week. Caring for over fifty patrons daily produced a significant strain on their current laundry capabilities.
The nursing home needs a practical solution for drying significant amounts of laundry. Not only was Haydock looking for the productivity benefits but the long term economic benefits from a commercial dryer.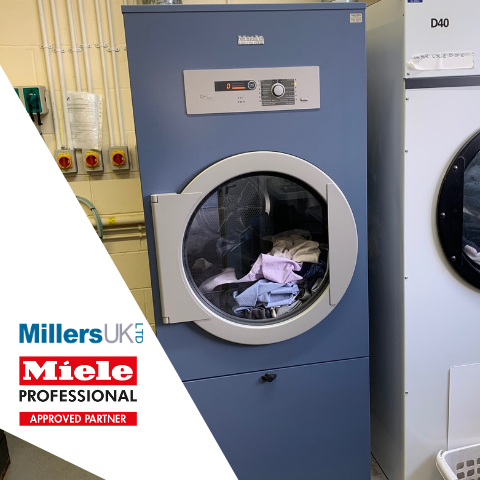 Chris Holden, the Director at Haydock Nursing Home sought the expertise of Scott Miller at Millers UK.
Chris understood that Millers UK had a strong partnership with Miele. A world-renowned manufacturer in the production of laundry equipment. With Millers UK's strong ties to Miele Chris was confident that he would get the best advice, products and solution for the company.
Millers UK Ltd is a UK company based in Lancashire that provides the sale, installation and repair of commercial Catering & Laundry equipment. Millers UK has very high standards in the laundry sector. The quality of Miller's service is seen with their 27+ years in business.
During that time Millers UK has developed strategic partnerships with specific industry leaders. One connection that stands out is their Miele Professional Partnership.
Scott Miller said, "We partnered up with Miele over eight years ago, and the partnership has grown from strength to strength." "We currently have eight service engineers active, and we cover all of Lancashire and the whole of the North West of the UK." "We work on the laundry sector which includes hospitals, NHS sites, care homes and veterinary practices."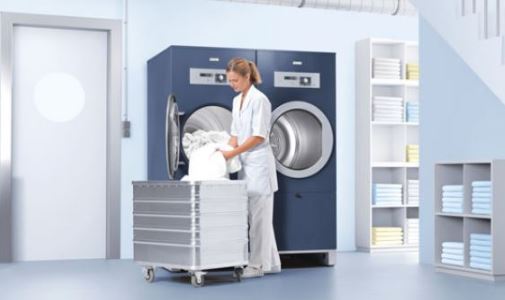 This vented dryer is a part of Miele's slimline range. The image above shows an install that Millers UK did in 2018 in Haydock UK. Here you can visualise the space needed for a vented dryer in your business.

Miele Professional Machine Installed - Miele PT 8303 vented dryer

Download The Miele PT 8303 Brochure

Millers UK carried out the installation of a Miele PT 8303 vented dryer for Haydock Nursing Home in Blackburn.

The low drum capacity gives the user a substantial amount of space for a massive load of laundry. With a load cap of 12kg to 15kg and a Load ratio 1:25 to 1:20 and finally the PT 8303 has a drum volume of 300 litres.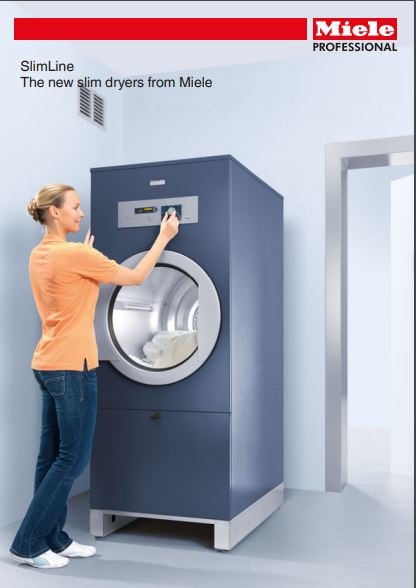 Miele's Profitronic B Plus controls shows the residual moisture, the remaining cycle time and the programming stage: Heating up, cooling down and anti-crease action.
It is also possible to set the programme parameters individually as required. For delicate fabrics, it is possible to reduce the temperature from high to medium with the "Low temperature"​ option.​​
Miele is always improving on their design and technology. Innovation is a crucial ingredient of what makes Miele successful. The patented Honeycomb Drum is one of Miele's flagship signatures.
This unique design is more than just aesthetics. The honeycomb drum's sole function is to protect both the machine and your laundry. Just like Mieles washing machines, the drum creates and a thin barrier of air between the Machine and the ironing which prevents the laundry from creasing.
For the Miele PT 8303 vented dryer to work, Millers UK needed to provide Haydock Nursing Home with a solution to remove steem through a pipe.
This pipe is connected to the back of the machine and out through an external vent or window. A flexible hose is the most common type of tube that is used to remove steem from the computer.
Since venting steem from the machine and the room is a necessary process, the tool needed to install in the vicinity of an external wall.
One of the main reasons that Haydock Nursing Home choose vented dryers is due to its lower cost compared to the condenser or heat pump units. Miele's designed the PT 8303 vented dryer to provide the customer with space saving solutions.